The Challenge:
Damage to homes, businesses, factories, and infrastructure from sinkholes results in millions of dollars in repair and lost revenue every year. Sinkholes can appear suddenly at the surface ("daylighting"). When a karst/sinkhole "daylights, the ground literally drops out from under you.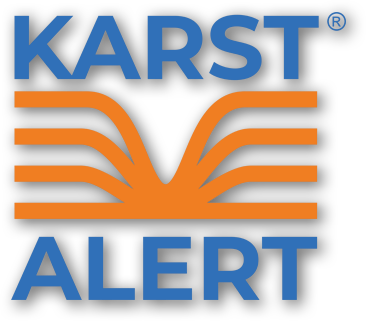 Karsting development that leads to sinkholes can take years to grow toward the surface. As sinkholes form, material spalls from the sides of the growing aven resulting in specific noise emissions that KarstAlert detects and analyzes. KarstAlert is a Real Time alarm system that monitors for not only the existence of sinkholes but the rate at which they grow as well.
Implementing KarstAlert allows for early intervention and mitigation to prevent costly damages.
Did you know?
Karst is a region made from the erosion of soluble rocks like limestone, dolomite, and gypsum.  The erosion from this dissolvable rock can lead to sinkholes, as well as other fissures and ridges on landscapes. Sinkholes are a subsurface collapse from rock erosion, causing a cavity in the ground.
The potential for rocks to create karst formation can be found in all 50 states. The catastrophic damage due to karst subsidence and sinkhole collapse is indeed a natural hazard of national scope that can be monitored and prevented.
Why use Microseismic KarstAlert Monitoring:
MicroSeismic, Inc.'s KarstAlert monitoring service is directed at the early detection of incipient karsting to offer the opportunity for mitigation of the sinkhole before it daylights and causes catastrophic damage. KarstAlert provides a robust, reliable, cost-effective technology for early sinkhole detection.
Benefits:
Early detection of sinkhole development allowing for intervention and mitigation
Detect and monitor voids, cavities, dolines, and depressions in the Earth's surface
Monitoring available for short- or long-term periods
Available for almost any size area and can be expanded easily as needed
Ongoing monitoring costs are minimal
Comply with regulatory mandates
Mitigate risk cost effectively
We can tackle any sinkhole hazard challenges anywhere in the world.
To learn more about KarstAlert Monitoring, please contact:
Ashley Shaw
VP KarstAlert
ashaw@microseismic.com
281-853-4501